Cop Company SSM / Cop buka akaun bank / Cop rasmi
Jenis Cop: Flash Stamp (Pre-Ink) – Siap ink di dalam cop
– Boleh refill ink jika telah habis.
Ink Color: Biru / Hitam / Merah
* Draf design akan dihantar sebelum cop dibuat.
Jenis Font: Helvetica
Size Cop:
Bulat (Round) : 28mm
Petak (Rectangle) : 20 x 53mm
Tempoh Siap:Order sebelum pukul 12.00 tengah hari akan di pos pada hari yang sama sebelum pukul 6.00 petang. (Isnin – Jumaat *Kecuali cuti Am)
Nak Urgent?: Siap dalam tempoh 2 jam. Self Collect di kedai sahaja. Tambah RM10
Cara Order di website:
1- Pilih jenis cop, warna ink dan masukkan detail
*Sila semak detail sebelum add to cart. Pastikan maklumat betul dan tiada kesalahan ejaan.
2- Add to cart
3- Proceed to checkout
4- Isi alamat penghantaran dan buat pembayaran
5- Proses membuat cop dan pos.
7- Tracking no akan diberikan
Cara Order di whatsapp:
1- Hantarkan detail-detail jenis cop, warna ink, nama ssm/perniagaan, no ssm, alamat, no tel
2- Whatsapp detai ke 0103311201
3- Kami akan berikan detail pembayaran
---
Detail yang di perlukan:
Nama SSM
No SSM
Alamat
No Telefon / Email / Facebook / Whatsapp (tidak wajib)
Contoh:
NURFA GRAPHIC NETWORK
202203326381 (003246313-T)
No. 7, Tingkat 1, Lorong 1,
Taman Ria, Sungai Petani,
Kedah Darul Aman
0103311201
[email protected]
---
Boleh letak logo atau cop untuk kegunaan lain. Masukkan kod di ruang detail. Company rubber stamp yang lebih mudah dan jimat, tak perlu bawa stamp pad.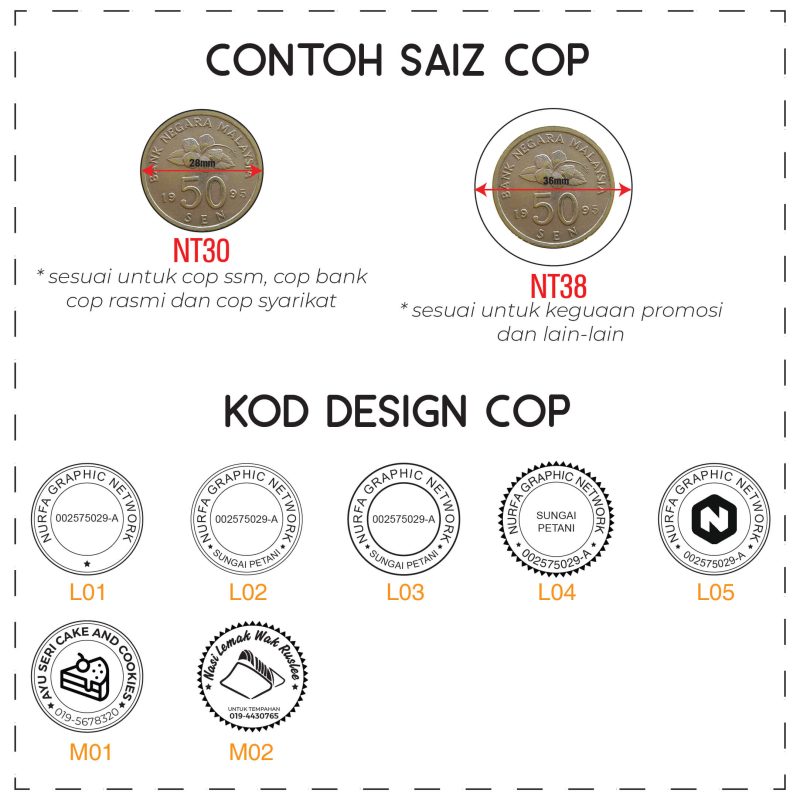 Refill Ink: RM10/botol
Cara mengisi semula ink selepas habis. Sangat mudah. Rujuk video ini (KLIK DISINI)